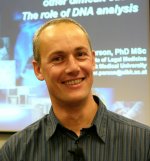 Walther Parson received his PhD in forensic molecular biology in 1999 and holds an associate professorship since his habilitation in 2001 at the Institute of Legal Medicine, Innsbruck Medical University. WP was primarily responsible for research which resulted in the set up of the National DNA Database Laboratory of the Austrian Federal Ministry of the Interior in Innsbruck between 1994 and 1996, which he is currently heading. WP is a member of international forensic working groups including the ENFSI DNA Working Group (European Network of Forensic Science Institutes), EDNAP (European DNA Profiling Group), ISFG (International Society of Forensic Genetics) and others and works as advisor on international boards and steering committees such as the EAFS (European Academy of Forensic Science) and the ICMP (International Commission on Missing Persons).
WP leads a very active group of scientists that published more than 100 peer-reviewed articles in the forensic and medical genetic field within the past 5 years. This group received more than ten national and international scientific prizes in the same time frame. WP was awarded the bi-annual scientific price of the German Society of Legal Medicine in 2004 for closing the ranks between forensic and medical genetics and he received the scientific prize of the International Society of Forensic Genetics in 2005 for his work in the field of forensic mtDNA research. In 2009 he was appointed active member of the "German Academy of Sciences Leopoldina". WP is member of the advisory board of the journals "International Journal of Legal Medicine" and "Forensic Science international Genetics".
WP was repeatedly consigned to handle international requests on DNA fingerprinting such as the DNA identification of the Asian Tsunami-victims from Sri Lanka, the DNA identification of the remains of the two missing children of the Russian Tsar family or historical cases including the investigations on the putative Mozart skull and the Friedrich v. Schiller Code.
WP has focused part of his research on the development and curation of Internet-accessible forensic resources such as the ENFSI DNA WG STR-BASE and EMPOP (EDNAP mtDNA Population database), a global mtDNA databank that has refined forensic mtDNA quality standards by development and dissemination of new research protocols, guidelines and software that aid the processes of mtDNA data generation and evaluation.